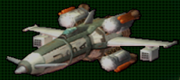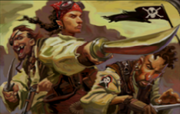 The Rocket jet is a plane in WDL Warjetz.
It is used by the Jolly Rogers
Description:
It has one large engine surounded by four small engines
It is the fastest plane in the game.
Armament:
Its primary weapon is a 75mm cannon, Its secondary weapon is the Photon flare,
It creates an explosion around the aircraft which will badlly damage nearby aircraft,
because of this and its speed, it is best used in hit and run tactics, flying really close to enemy planes,
activating the flare to damage or destroy them then flying away so they cannot easily retaliate. Weapon upgrades will increase the explosions power and fire rate
Ad blocker interference detected!
Wikia is a free-to-use site that makes money from advertising. We have a modified experience for viewers using ad blockers

Wikia is not accessible if you've made further modifications. Remove the custom ad blocker rule(s) and the page will load as expected.